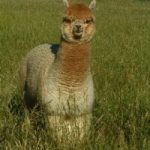 6P Royal Gold Imp98 – Reference Only
Royal Gold was one of the finest imports brought to the US. It was quite an eye opener in the 1990's when his first cria started testing at 14 and 15 micron and remained Superfine throughout adulthood. He also produced many black and grey offspring even when bred to lighter colors. He was a unique and high quality producer.
We have some of his best direct offspring and grand offspring available for purchase.
Consistent, Persistence, Fineness…. A product of the Antacalla/Allianza breeding program, Royal Gold was originally held as the importer's personal herdsire selection in the last Peruvian importation (1998). His reproducibility is undeniable! He has proven to improve density, fineness and crimp.
Royal Gold has sired numerous Champion, blue ribbon offspring that will always get comments from the judge remarking about their fineness and presence. He was capable of producing all colors, including black and grey.
One of his greatest gifts to his offspring was passing on his strong presence and attitude which is noticeable from birth.
Awards
Royal Gold produced Champion and show winning offspring in a spectrum colors from fawn to black to grey. His fleece was only shown once, the same year we bought him. He was five years old but we knew he was special. He took 1st Place.