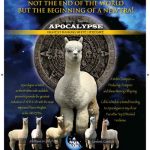 DAM:
Vengador's Accoyo Nirvana
Sire:
PCA Hemingway-Accoyo Nautilus
Accoyo America Apoclypse "A-Man"
A-Man is working in Georgia through Spring 2017 at Apple Mountain Alpacas. Contact Jay and Melissa to schedule your breeding.  
 Improving persistent fineness and increased density are among A-Man's most remarkable accomplishments when testing his offspring. His breeding male and female offspring have been holding remarkable grade 0 fineness through 8 years old. Placed among the top few males with the highest accuracy, Apocalypse will help you in balancing epd traits among your herd. Developing highly homozygous genetic traits is what a purposeful breeding program is all about.  
Apocalypse stands in no ones shadow. 

His offspring have great conformation, full fleece coverage with beautiful heads that always do great in the top white and light classes.  

By any measure he is an impressive and unique herdsire. His stats provide confidence that your breeding program will be able to compete among the top animals in the country. His offspring are Ultra Royal Fine grade range as juveniles and yearling and remain in the Royal and sub 20 micron range well into their adult years. A great trait to establish in your herd or your next "home grown" herdsire.  Apocalypse is one of the most prepotent offspring of PCA Hem-Acc Nautilus. Starting out with a multiple championship show career Apocalypse has produced significant results as a herdsire.