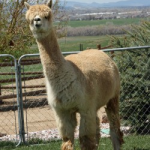 For Sale:
Sale Price $3,000 includes 2017 cria
HRAZ Alegra
Beautiful, champion quality,  Accoyo Legacy daughter, excellent proven dam, conceives and births easily. Has produced numerous champion and show winning offspring that are breeding at multiple farms. A high quality female that produces quality herdsire males.
Alegra's 2014 male cria, "Golden Explorer" (GE, pictures below) is great example of how stunning her crias have been.  Can't wait to see his progeny….GE will bring good things to life!
She is bred back to our one of top Royal Gold lineage herdires, Stargazer's Skywalker, for a Fall 2017 cria. His fleece is out of this world. Fine, dense and elite character.  If she has a male cria we may be interested in trading a female for him.
Awards
[Fourth Place] AOBA National Conference 2003 Halter Huacaya Medium Fawn Juvenile Female [First Place] Southwest Regional Alpaca Show 2003 Halter Huacaya Light Juvenile Female [Color Champion] Southwest Regional Alpaca Show 2003 Halter Huacaya Light Female Color Championship [First Place] Sun City Sizzle 2003 Halter Huacaya Juvenile Light Female [Color Champion] Sun City Sizzle 2003 Halter Huacaya Light Female Color Champion [First Place] AOBA Fiber to Fashion Fleece Show 2004 Fleece LH100-1 HUACAYA JUVENILE MF [First Place] Great Western Alpaca Show 2004 Fleece Huacayas Fawn Juveniles [First Place] AOBA Fiber to Fashion Fleece Show 2005 Fleece Huacaya Age C – Fawn [Third Place] Great Western Alpaca Show 2005 Fleece FAWN HUACAYA 2 YEAR OLDS