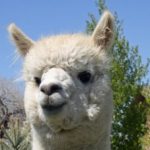 DAM:
MFI Peruvian Bravado's Butterp
Sire:
NWA, LTD Accoyo's Goldsmith
Nightsky Grace
Grace is a foundation female with high quality genetics with above average EPD's. She has proven to be a great mother along with has great milk production. Her crias gain ½ to ¾ lbs per day. Grace has a very soft, dense and uniform fleece, ranking among the top animals for increasing staple and fleece weight. She will not disappoint when matched to a male that will improve fineness.
Grace has a diverse color background. As expected she has been producing produce top show quality offspring in any color. Her crias are gorgeous. Her breeding to Antares, One of the top black herdsires in the EPD program won't make waiting to see the results any easier.
Her individual sale price does include a breeding to any of our solely owned herdsires.
AFD 17.9; SD 3.9; cv 21.9; >30 0.9%
Yes, the price is low but her quality and genetics are very top of the line. We are making great deals to stay on track with our herd adjustment. EPD consulting included with any animal purchases. Please call if you have any questions.