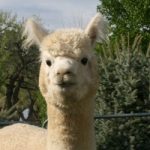 Status:
Proven Bred Due 06/20/15
Sire:
Accoyo America Apocalypse
Srv. Sire:
Stargazer's Explorer
Stargazer's Amanda
Amanda has a solid pedigree that combines the best of the Accoyo and Allianza. She is put together well with a beautiful head and proportions. Her fleece has an extremely soft handle with a high frequency crimp and micro bundles that are a sign of high density. Her EPD's back up what she display phenotypically. She improves fleece quality across the board while delivering a great improvement in density. reduces AFD; improves SD; lowers % >30; increases FW (Top 2%) out of almost 32,000 females in the program!
Amanda is bred to Stargazer's Royal Rumble, who brings in another impressive pedigree.Rumble is still only 16 AFD at three years old. EPD's Rank him in the top 2% for improving fineness and increasing fleece weight a well. The combination will produce an offspring that you will want to show off in the show ring and provide a lifetime of superior offspring.
Please feel free to email us for a current and complete price list of our herd reduction sale. To keep our reduction efforts on track, we are continually adding animals to the sales list and lowering prices. Maybe it's another sign of getting old but maintaining three alpaca websites with up to date information has been prone to errors.
Price includes her very friendly male cria at side. He has a an even more impressive pedigree and is well documented to density and fineness.