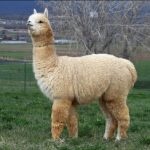 DAM:
Stargazer's Cybele # 1215632 White
Sire:
Accoyo America Apocalypse # 851697 White
Stargazer's Centaurus
Persistent Fineness and Density along with exception fleece character and architecture.
Centaurus is an exceptional combination of the most influential white genetics. His dam is one of our top producing females. She is an Accoyo Augusto daughter with Accoyo Felix and Hemingway in her pedigree a well. His sire is Apocalypse, his reputation for producing elite EPD and show quality offspring is well known.
He is holding an extremely fine fleece into his fifth year as well as maintaining a great degree of uniformity. He exhibits great expression and bundling an indication of advanced follicular development. He also has a remarkably long fleece staple with a high curve.
His EPD trait values for AFD are in the top 1% and for increasing fleece weight the top 10%.
When indexed on those performance traits he is placed at #58 of the Public EPD report. That ranks him in the TOP 5% of the TOP 1%. 1%
AFD 1% SF 3% %>30 10% for fleece weight. (10% FW is a high ranking for this degree of fineness.) Places 58 out 2500 males when indexed by AFD and FW.