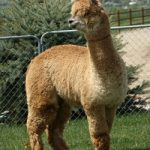 Sire:
Stargazer's Barringer
Srv. Sire:
Stargazer's Antares
Stargazer's Ginger
Ginger such a beauty! Accoyo Goldsmith a well as Hemingway bloodlines make this a very special foundation female. She will deliver quality in any color.
Wonderful fleece and great genetics as her Registration portray. Regal presence and a friendly easy personality. Gorgeous fleece possibly a grey fawn, very dense and a very long staple. Can be bred for color or light. Either way she is a show girl!
in 2016 Ginger was listed among the top 100 Dark Fawn females tested to reduce AFD and increase fleece weight in the EPD program
19.4 5.1 26.3. 2.5
21.1 5.0 23.8 3.7
21.7 5.4 25.2 .5