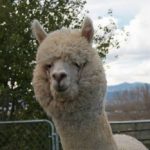 DAM:
Poseidon's Persephone
Sire:
Accoyo America Apocalypse
Srv. Sire:
Stargazer's Royal Rumble
Stargazer's Pandora
Pandora is prepotent female for fineness and density with fleece characteristics that will produce show quality offspring. She has a solid pedigree with Accoyo Poseidon and Hemingway-Accoyo Nautilus in her pedigree.
She is a top show girl herself placing 3rd among white females at one of the largest and most competitive shows in the country.
According to ARI-EPD's Her EPD ranking is among the top:
15% -AFD
2% +FW
10% -SD
2% +MC
15% -% >30
Pandora is available to buy as well is her 2014 female cria, Penny, who is sired by Stargazer's Explorer. Penny's EPD's are expected to be as the prediction below states … or better.
Stargazer's Explorer, brings in an equally impressive pedigree. Explorer's dam is the #1 female in ARI-EPD program that will -AFD and +FW. The combination will produce an offspring that you will want to show off in the show ring and provide a lifetime of superior offspring. "Penny's" EPD's should be in the following range…or better.
5% -AFD
5% +FW
10% -SD
2% +MC
10% -%>30
Awards
[Third Place] 3rd GWAS Halter 2010