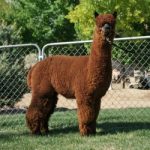 Micron:
all color offspring including black
DAM:
Bluegrass Royal Independence
Sire:
6P Royal Gold Imp98
Stargazer's Taurus
Regarding fineness and density, Taurus is a top ranking herdsireamong dark males even placing ahead of more that 85% of the white males in the EPD program. One of our top Royal Gold replacements he has a wide range of potential color results.  He is Dark Brown with black points and has thrown Modern Rose grey even when bred to dark brown with grey genetics.
Structurally, Taurus is a heavy boned male with a strong hind quarter and a wide chest. He exhibits a very dense, crimpy, blue ribbon fleece with a fine and uniform handle. One of his amazing traits is his outstanding staple length.
It's a very rare combination that any animal will do well under both types of evaluation. Well proven in the show ring. Taurus is one of those rare animals that was able to obtain 7 great placements under 7 different judges. Well proven by science. Taurus has one of the overall highest ranking dark males n the ARI EPD program.
His deep mahogany brown color, as well as, more great genetics is provided by his AOBA National Blue Ribbon dam, Indy, who is a rare, bay black, Accoyo Royal Fawn Daughter.
1 yr afd 17.2; 4.9; 28.2
2 yr afd 21.7; 5.3; 24.32
3 yr afd 20.8; 4.7; 22.6
Awards
1st ABR Fall Festival 2010 1/14 J Anderson
1st EPWM 2012 Fleece S Loner
2nd ABR Fall Festival 2009 2/6 K Oleary
2nd GWAS 2011 2/5 J MacLeod
2nd GWAS 2012 Fleece 2/5 H Humphries
3rd GWAS 2010 Fleece 3/6 D. Timmerman
3rd MOPACA 2011 3/5 T. Lavan
Consistant great placements from many different judges!