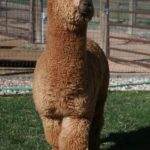 Sire:
ELK Dom Lucilio's Eclipse
Stargazer's Toulouse
This boy will produce high density, show quality offspring in all colors. His first cria was a modern dark rose grey female out of a solid brown dam. Toulouse's sire Eclipse, is a multi champion producer Including many modern greys. His lineage includes three of the top Accoyo imports as well as one of the few true black Peruvian imports.
Toulouse has a great head style and carries himself in true herdsire fashion. This is a gorgeous boy with buttery, silky soft fleece. Very dense and wow character, very uniform except for the little grey spot on his side that likely kept him out of the champion competition as the judges always made a point to examine.
We have always been very selective on who we use as herdsires. Simply a casualty of our herd sale. Toulouse's value is much greater than his asking price.
($900 price includes registration papers for breeding / $250 without.)
Awards
2nd GWAS 2012 (Halter) J Anderson
3rd GWAS 2012 (Fleece)
3rd EPWM 2012 (Fleece)S Loner "Beautiful Crimp"