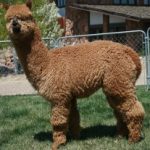 Sire:
ELK Dom Lucilio's Eclipse
Stargazer's Toulouse
I wish we had more females that we could pair with this boy. (but then he wouldn't be for sale) We like him a lot! Toulouse is a living definition of density. Ranked at #79 out of over 16,000 males in the EPD program. This boy will produce high density offspring and also deliver show winners in all colors. His first cria was a modern dark rose grey female out of a solid brown dam. Toulouse's sire Eclipse, is a multi champion producer Including many modern greys. His lineage includes three of the top Accoyo imports as well as one of the few true black Peruvian imports.
Toulouse has a great head style and carries himself in true herdsire fashion. This is a gorgeous boy with buttery, silky soft fleece. Very dense and wow character, very uniform except for the little grey spot on his side that the judges always made a point to examine.
We have always been very selective on who we use as herdsires. Simply a casualty of our herd sale. Toulouse's value is much greater than his asking price.
We would also consider a partial ownership arrangement for a local co-owner. You would have 100% possession and we would retain some breedings.
Awards
2nd GWAS 2012 (Halter) J Anderson
3rd GWAS 2012 (Fleece)
3rd EPWM 2012 (Fleece)S Loner "Beautiful Crimp"