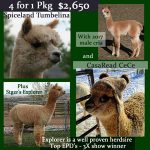 ARI#:
324483802 and 31968041
DOB:
8/17/12; CeCe 6/2016
Status:
Tumbelina is due Fall 2017
For Sale:
$2650 for 4 in 1
4 in 1 package Tumbelina & CeCe (mother, cria, daughter and herdsire)
A great package of color, genetics and enjoyment. Mom is the daughter of our top Apocalypse herdsire (Stargazer's YO!) who has never disappointed us to improve fineness, density and let color pass through. Tumbelina's dam has long line of Accoyo genetics crossed with show winning records of color and character. Tumbelina's 2017 cria is also included and looks to be a great show prospect with herdsire quality genetics.
The genetics of this package is among the in the EPD program….and almost as important is that they are among our friendliest lineages. Stargazer's Explorer is the herdsire included in this package. He ha been well proven and sired many of trhe top in our breeding program.
CeCe's sire, Stargazer's Antares, is one of the top true black herdsires in the EPD program for fineness, staple length and density. She is an excellent choice for breeding show winning quality characteristics and fineness production. CeCe can come with a breeding and guarantee to a select Stargazer herdsire for a special 4 in 1 package (and price) if desired.