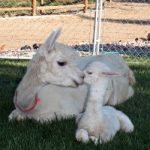 Queen Cassiopiea
Cassie is from one of our top Sollocota/Accoyo combination dam lines. She is an exceptional high quality, show winning, champion producing dam. Her sire, Accoyo Kekae, was exported from the US so it is not an Accoyo line that is very prevalent in the US.
An excellent foundation dam. She has extremely fine fleece with elite character, density and brightness. She is the result of multiple generation quality breedings originating from Accoyo and Sollocota programs. Excellent conformation, easy to handle. Cassie is Herdsire Quality producing dam.
She is very calm and easy to handle and passes this trait on to her crias. Her cria have always placed at the top of her class in level 5 shows. Produces offspring with 16 micron AFD.
**8 yr old histogram 23.7; 4.9; 20.6; 8.1
Curvature of 40.6 (Her curve had been tested at 45.3 as a 7 year old)
Comes with a breeding to any Stargazer Herdsire.
Awards
shown once 2nd Estes Park Wool Market Halter Show 2000 Class of 15.