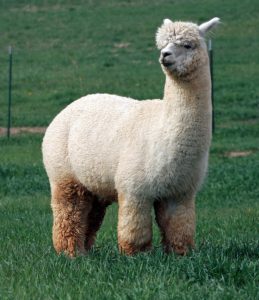 Some Barringer Offspring Fleece Pictures
Micron:
14.9; 4.4; 29.9; 1.2
DAM:
NWA, Ltd Bella Bianca
Sire:
6P Royal Gold Imp98
Stargazer's Barringer
SOLD
Barringer has produced awesome offspring. He's not getting any younger and his price make him a great deal for a small breeder how wants to get the most bang for the buck. He's in great shape and undoubtedly has at least a cuple good years ahead of him. This is an opportunity to have a world class male at virtually no cost considering he is priced at less than the cost of an equivalent quality breeding. Never has the statement that "Quality doesn't cost…it pays!" been more true
Allianza fine and Accoyo dense! El Bello/Hemingway, Accoyo Felix and Royal Gold combined produced an outstanding male. Barringer has been our top pick for Royal Gold's replacement and are anxious to get his cria on the ground. Easy temperment male for handling.
He is extremely soft and uniform and produces offspring with a phenomenal long staple length. Even in his advanced years he gets comments as his fleece comes off at shearing time. He was the shearer's favorite pick of the herd. He is square with solid, heavy bone structure featuring a wide chest. Barringer has a very calm demeanor.
1st year Histogram 14.9; 4.4; 29.9; 1.2
Terms are available.
Awards
Always placed in tough white and beige classes: First Place 1st Halter ABR Fall Fest 2010 Anderson First Place 1st Best Handle EPWM 2010 Schimeld Second Place 2nd Halter GWAS 2010 Macleod Second Place 2nd B&O MOPACA 2011 Macleod Second Place 2nd Halter GWAS 2011 Behrman Fifth Place 5th Halter MOPACA 2010 VandenBosch Fifth Place 5th EPWM Fleece 2010 Schimeld Sixth Place 6th Halter MOPACA 2011 Lavin 1st Place ABR Fall Festival yearling halter 2010 1st Place EPWM Fleece best handle 2010 2nd Place GWAS Halter Juvenile 2010 2nd Place MOPACA Halter B&O 2011 4th Place GWAS halter Yearling 2011