Stargazer's Curley Sue
Improving or maintaining fiber fineness in our herds is always a factor in our decision process of making breeding and purchasing selections. The down side to that is without equal attention being paid to fleece weight production, you may be handicapping your future herd fiber production. With only a 2 micron improvement if fiber diameter fleece weight production will drop approximately 25% without an increase in density and/or staple length.
Curley Sue, an offspring of a couple of our best producers, she has been ranked among the top 25 females for the combined index value of improving both AFD Fineness and Fleece Weight. That puts her close to the top 5% of the top 1% of almost 45,000 alpacas used in the 2016 EPD report. Curley Sue is a super fine, dense and show winning female that will outperform 99.5% of all females with a genetic profile.
Everybody's bottom line is affected by the value of the males produced. Curley Sue is a female that will produce useful herdsires and be a valued member to your breeding program. A show quality female with superb genetics … true seedstock.
Her full brother Callisto is on our herdsire row and is one of the top males in the EPD program to improve fineness with the greatest increase in fleece weight as well.
Awards
5th of 10 at GWAS 2012 Vandenbosch 5th of 9 at MOPACA 2012 Anderson
Sire:
Accoyo America Apocalypse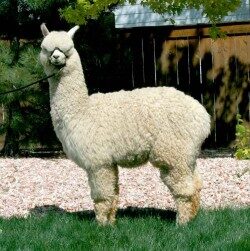 Micron:
afd 16.2; sd 3.7; cv 22.9; >30 0.5%