Stargazer's Curley Sue
Curley Sue, an offspring of a couple of our best producers, has been ranked among the top females for the combined index value of improving both AFD and Fleece Weight. She is a super fine, dense and show winning female.
She is a proven dam. Sale price reflects that she has had difficulty conceiving the last couple times she was bred. Her price reflects that she is being sold open and does not come with a reproductive guarantee.
Awards
5th of 10 at GWAS 2012 Vandenbosch 5th of 9 at MOPACA 2012 Anderson
Sire:
Accoyo America Apocalypse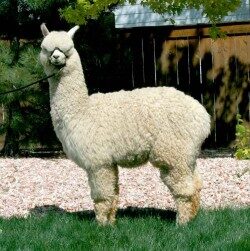 Micron:
afd 21.8, sd 4.4, cv 20.2 2019