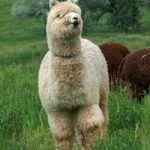 Sire:
Stargazer's Explorer
Stgzr's Golden Explorer
Golden Explorer (GE) is a very well bred male with a bright future as a standout herdsire. He has a solid pedigree that lists many of the top names in the industry. Each generation describes a progression of genetic improvement and shows that no compromises were made in making pairing decisions that eventually ended up producing this male.
GE has a strong frame and a great presence, leaving you with no doubt that he understands that he's from royalty. His dam, Alegra, is solid pedigreed female with top Accoyo and Peruvian imports. His Sire, Explorer, brings in  a couple different Hemingway  lineages and other top Allianza and Accoyo lineage.
2015 AFD 17.0; SD 4.9; CV 28.9; %>30 1.2; CF 98.8
2016 EPD Ranking
– AFD top 10%
– %>30 top 15%
+Curve top 15%
– Spin Fineness 15%