Stargazer's Royal Rumble
RRumble is a rare find for a herdsire. He is one of the best 6P Royal Gold's males we produced in our breeding program and that says alot. He help royal grade finesness until almost 10yrs old. He also has the herdsire focus when it comes to breeding.
His sire Royal Gold (RG), came in among the last of imports from Peru. (The most heavily screened and rigorous of the importations.) RG originated from the Antacalla region. He made his way to our breeding program after quickly making a name for himself as a herdsire for one of the top importers. His offspring were easy to pick out in the auction catalogs as they all had his great head style and presence. Royal Gold's persistent fineness has also carried through to his offspring.
Rumble could be used for color as well. His sire produced a lot of color and had the ability to pass on his fineness to black and modern gray crias. Antares (RG x Arwen) is our black herdsire that has replaced RG for our dark program.
Rumble's dam, Bella Bianca is a National Blue Ribbon white. Her sire, El Bello, was one of Hemingway's most notable male progeny. All of Bella's crias have been among the best in our program. They have all been recognized as top show winners with sought after fleeces. We have always had great anticipation waiting for her to deliver.
The following test results demonstrate the numerous 1% EPD rankings RRumble has earned.
2013 15.1 3.1 20.3 0.3
2014 15.1 3.0 19.9 0.4
2015 16.3 3.5 21.3 0.3
2016 18.2 4.0 21.7 0.9
2017 17.4 3.6 20.8 0.5
2018 18.3 4.0 21.8 1.2
Some of Rumble's offspring that we still have on the ranch: Zakai, Encore and Alicia.
DAM:
NWA, Ltd Bella Bianca
Sire:
6P Royal Gold Imp98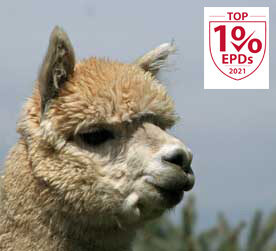 Micron:
18.3 AFD; 4.0 SD; 21.8 CV; Curve=52
For Sale:
Inquire about purchase