Stargazer Downsizing Deals
The alpacas listed on this page are specially priced to help us meet our needs in reducing our workload. Our age and recent surgeries have really helped highlight that our herd is about twice the size that we can comfortably handle on day to day basis.
Their low price is not an indication of their fiber production quality or temperament. They are all excellent candidates for a anyone looking to gain some experience in caring for small livestock. Their lower price is also not an indication of reduced mentoring. We always look forward to helping new alpaca owners get started and explore the opportunities alpacas can provide.
With over 60 alpacas, we have a full range of quality, age and colors from white to dark brown in all price ranges.
If you are not able to visit we can also send you information and pictures on alpacas that are not currently listed that will meet you needs and budget. (We do not sell any alpaca before it is weaned unless it is sold with its mother.)
Getting started on the right foot is more than finding the right alpacas to buy. Facility set up, and husbandry protocols are key to a smooth start and we can help you to get set up within you budget. We have been helping new breeders get a secure start for over 20 years and are always excited to shared what we've learned.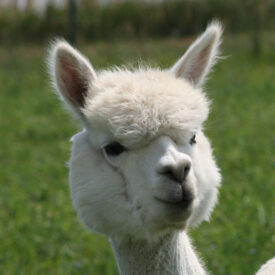 Lizzie is extremely dense and phenomenal fiber producer. She produced 8.4 lbs of 23. micron fiber in 2018. She is…
Read More..