Shearing Day @ Stargazer
May 11 @ 8:00 AM

-

4:00 PM

Free
Please let us know of your intentions to help in advance.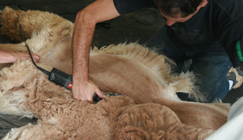 We can always use help on shearing day as it's all hands on deck with many tasks to accomplish getting all the alpacas shorn safely and efficiently. Novice and experienced volunteers welcomed and appreciated.
Shearing day is May 11th. We start at 8 am and try to finish by 4-5 pm. It's pretty common that we lose a lot of help after lunch so we are generally shorthanded in the afternoon. If you plan on helping, please let us know your availability for the day. We will be shearing about 40 – 50 alpacas. The sooner we get done, the more time for the "Post Shearing Social".
Duties are split into two areas. One working in the barn getting alpacas weighed and ready for shearing and reweighing and other post shearing activity. Shearing takes place in the shop and consists of some animal and fleece handling, husbandry and assisting the shearing crew with clean-up between animals.
Beverages, lunch and snacks are provided. We try to have some vegetarian options. (Can't promise 100% organic).