AVAILABLE FEMALES
The following is a partial listing of female alpacas that are available to purchase. With over 60 alpacas, we have a full range of quality, age and colors from white to dark brown in all price ranges. Discounts are available for multiple purchases. Financing is also available.
We have always had very high standards when selecting breeding match-ups. When we started 25 years ago it was pretty easy to recognize the top producing lineages. They were either offspring of imports or one generation off from an import. It helped that there weren't that many top producers to keep track of. Today, the industry is well into its 7th or 8th generation and identifying the best is a very different process. Without using and objective data, the show system today is unable to accurately determine who will be the best producers. If you're not sure what I mean by that, imagine if dog shows were used to determine if a "doodle" was likely to shed.
Without using any objective data, the show system today is unable to accurately determine who will be the best producers. You can see from the pedigrees of these females that every ancestor was among the best of the best. Their phenomenal EPDs are an assurance that they will do their part to deliver what they promise. No alpaca is absolutely flawless. We always disclose any issues you should be aware of. All of our alpacas have full health, reproductive, and production records to help with your decision.
If you are just beginning your alpaca breeding adventure, getting started on the right foot is more than just buying a high quality alpaca. Facility set up, and husbandry protocols are key to a smooth start and we can help you to get set up within your budget. We have been helping new breeders get a secure start for over 20 years and are always excited to shared what we've learned.
We can also send you information and pictures on alpacas that are not currently listed that will meet you needs and budget. (We do not sell any alpaca before it is weaned unless it is sold with it's mother.)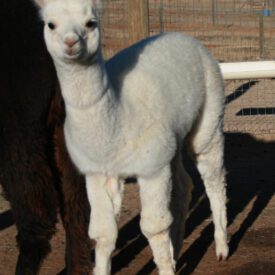 Candy is special female with a great future producing seedstock offspring. Her dam is one of our very best Apocalypse…
Read More..