Our Goals and Philosophy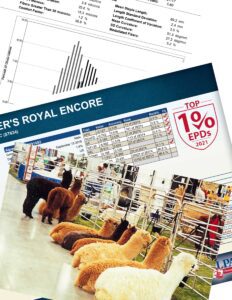 Our focus from the beginning has been to produce the high quality alpaca breeding stock in North America. Our mantra of "Building Better Babies' has been the focus of our breeding program and is based upon documented pedigrees of lineages obtained from the Accoyo Estancia and other top Peruvian breeding programs. We make our breeding and purchase decisions based upon objectively measured fiber qualities, correct and pleasing phenotype and utilization of the heritability found in top performing bloodlines.
We have always tracked our fiber production and mainatined our herd health records since we started in 1998. This information has been a great help in utilizing the most advanced genetic evaluation systems available today. Currently, the most accurate system for alpacas is the AOA EPD program (Expected Progeny Difference program). It is the "Gold Standard" used to identify the genetic profile of an animal to determin its performance potential. The accumulation of the historical data has been a great help in establishing our herd trait data among the most highly ranked and accurate in the EPD program.
Our breeding program has proven itself in the show system as well,. We've been awarded dozens of Championships, hundreds of Ribbons and a dozen special recognition awards for superior trait production. While our need to participate in the show ring has diminished over the past few years, our passion to improve each generation has not. We are very focused on scientific data and measurable fleece characteristic in our breeding selection evaluation and continue to produce among the best in the US.