Stargazer's Elijah
We are absolutely thrilled with the results of this deep Alianza and Accoyo cross-bred herdsire. Prepotent, homozygous genetics for persistent ultra-fine fleece production and density. His fleece is a great example of how nice alpaca can be.
Elijah meets all the qualifications of an elite herdsire. He places #4 among beige males for improving AFD along with increasing fleece weight. Since Eli is the combination of our two best producing bloodlines, we simply don't have many eligible females to pair him up with.
His dam and grand dam on both sides of his pedigree are National Blue Ribbon winning dams. Besides show quality genetics, this proven herdsire is among the top 1-2% for improving offspring fleece quality across many traits.
2019 EPD Ranking
AFD 1%
SD 10%
SF 1%
%>30 1%
CURVE 2%
MED 2%
FW =FW PLACEMENT IS #4 AMONG THE BEIGE 1% AFD RANK GROUPING.
Sire:
Stargazer's Barringer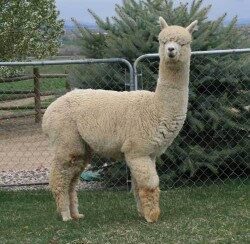 Micron:
AFD 15.4; SD 3.5; CV: 22.8 2015; AFD 19.3; SD 4.4; CV 22.9 2016